Brian Doherty, Reason.com
It wasn't ultimately surprising that a Republican candidate facing assault charges for allegedly bodyslamming a reporter the day before the election won his House race in Montana anyway. But Greg Gianforte's 6 percent win over Democrat Rob Quist was far lower than most assessments of Montana's relative preference for Republicans would indicate. And Gianforte's winning margin was exactly matched by the unprecedented 6 percent total for a Montana House race for the Libertarian Party's candidate, Mark Wicks.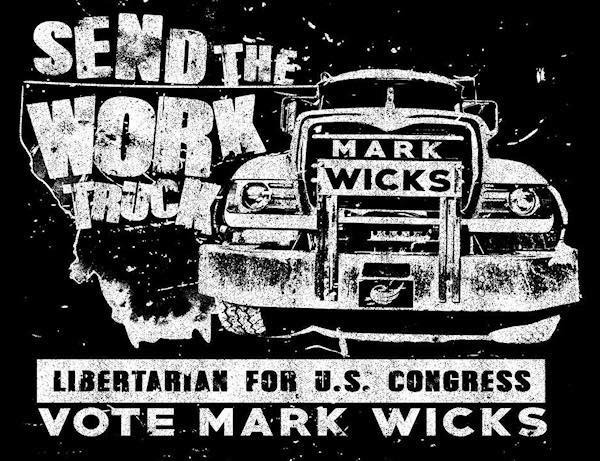 Wicks for CongressWicks, a rancher and mailman in Inverness, Montana, thinks the key to his unusually good results for the L.P., for a campaign that could not afford any print, TV, or radio ads and only a few signs, was that the L.P. helped pressure the hosts of a televised debate to include Wicks along with his major party competitors.
"When people saw how I handled myself, especially compared to the other two," Wicks said in a phone interview the day after the election, it helped him nearly double the last L.P. House candidate's 3.3 percent. (In Liberty County, next door to his home county, where Wicks says he likely personally known one-quarter of the voters, he pulled 16 percent.)..
To read more click here.